ACTION ON THE GROUND
IMPACT GENERATED

1,36,000+ Students Impacted through Act Smart workshops
OUR MOTO
To develop essential life skills and resilience in teenagers through effective education as well as teaching strategies and skills to cope with pressures in real-life situations


ABOUT THE PROJECT
The Global Smashed Online project's flagship programme in India is called Act Smart. It is a part of an international initiative to help teenagers build resilience and essential life skills. The Act Smart Project includes an interactive primary movie and is intended to be used as an online lesson both pre-and post-testing. It recounts the story of three friends attempting to overcome the difficulties presented by underage drinking. The approach places a strong emphasis on early intervention to stop underage drinking and on training students to deal with pressure in everyday settings. The three protagonists have a number of relevant life experiences and reflective moments that help them acquire valuable life lessons.
This is a one-of-a-kind engagement and a pilot which possibly could be scaled across the globe in the near future. Act Smart India is paving a way for the world to lead students to become Act Smart Champions.
Our Intervention:
ACT SMART intervene through a 90 Minute workshop, consisting of an interactive movie and live engagement with students in the age group of 13-17 years of age. It chronicles the story of three friends Gargi, Manan and Parth as they attempt to navigate through the challenges of bullying, peer pressure, and underage lifestyle habits such as addiction. In India, this workshop has been hosted for 60000+ students across schools, NGOs, community centres and orphanages.
The students through these sessions learn about the behaviours such as peer pressure, bullying, underage lifestyle habits, the nuances of friendship and how important its role is in our lives. The workshop acts as a precursor for the students towards problem-solving, the art of saying No, and engaging in internet smart behaviours to enlist a few. These skills serve as a pre-emptive for the students and consolidate an informed action when faced with a similar situation in future.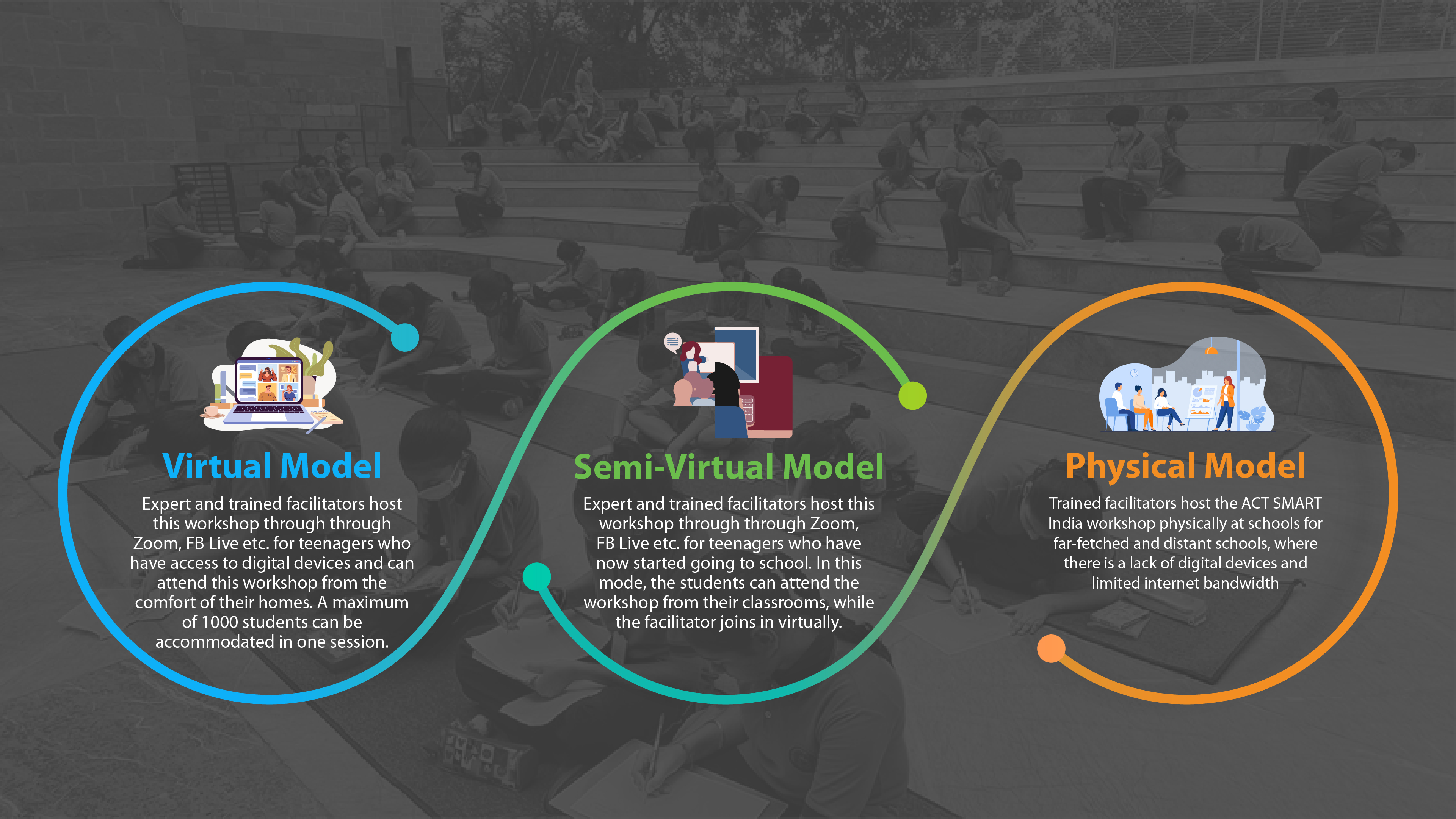 PHOTO GALLERY OF TRANSFORMATION