ACTION ON THE GROUND
IMPACT GENERATED

Impacted 2,33,000+ Students Positive attitudinal change in more than 2,00,000 participants Partnerships with 24 Regional Transport Offices and 6+ Government Partnerships
OUR MOTO
To enable positive behavioural change among citizens on Road Safety & Intoxicated Driving. This program is an apt behavioural change engagement module designed for licensed drivers/learner drivers, students, all other road users above the legal drinking age to make the roads safer


ABOUT THE PROJECT

In line with Ministry of Roadways and Transport Authority's National Road Safety Campaign call for SADAK SURAKSHA - JEEVAN RAKSHA Campaign, Wrong Side of the Road (WSOTR) is a CSR (Corporate Social Responsibility) Initiative to enable positive behavioural change among Citizen on Road Safety & Intoxicated driving of 2,85,000 + driving citizens by March 2023 in India. So far WSOTR initiative has reached more than 2,44,000+ beneficiaries and successfully running the Driver Sensitization Tab-lab (a setup with a digital tablet with earphones) in 6 states of India i.e., Delhi, Uttar Pradesh, Maharashtra, Jharkhand, Uttarakhand and Rajasthan. About 2,00,000+ citizens have potentially changed their behaviour and are less likely to drink and drive after taking part in the WSOTR Module.
The WRONG SIDE OF THE ROAD is an effective and successful 45-Minute behavioural change workshop comprising of live engagement, interactive movie & small assessment for educating driving citizens on road safety and anti-drink & drive. This workshop is delivered through blended approach of live physical engagement & virtually through tablet devices in Hindi or English language where each citizen driver will receive a Certificate of Completion, a Badge and most importantly a reflective learning experience.

Our Interventions:
Wrong Side of the Road Project is a 45-minute module which combines a powerful video-based content, with a curricular attitudinal assessment, to spark the behavior of responsible road usage amongst the drivers/motorists/general road users. This Road Safety Education is being delivered with Master Trainers, Setting up Driver-Sensitization tab-labs and Webinars in more than 26 States in India.
The Project is being implemented through a webinar model to the higher educational institutes with master trainers. A digital driver sensitization, Tab-Labs one of the first in its kind in India have been set up in 5 different Regional Transport Office, Physical Workshops are being conducted in more than 23 villages in rural India for ensuring responsible road user behavior and decreasing road accidents in India.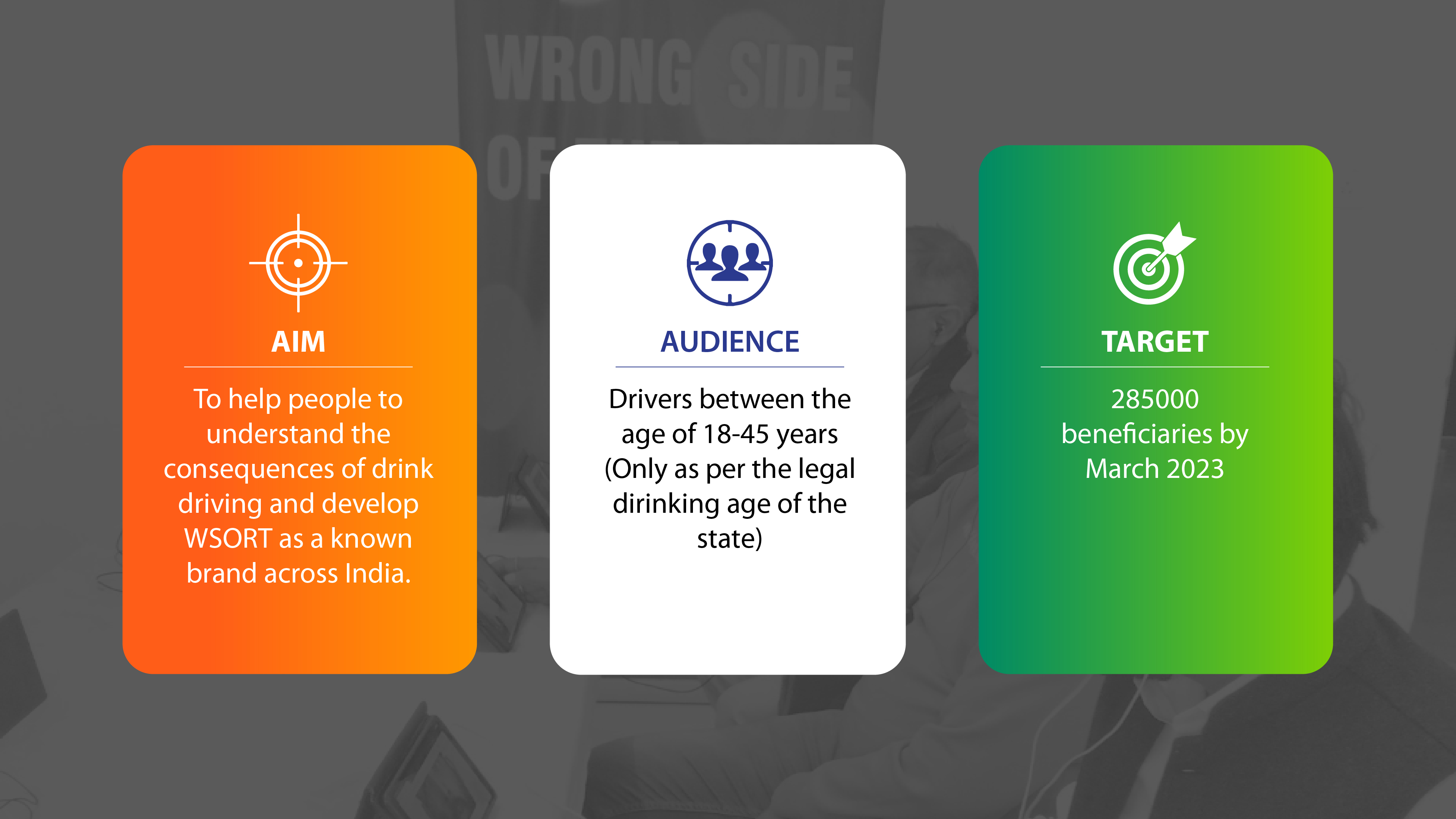 PHOTO GALLERY OF TRANSFORMATION